Read Local/Eat Local
June 23 @ 11:00 am

-

1:00 pm
All are invited to our Read Local/Eat Local event – no registration necessary!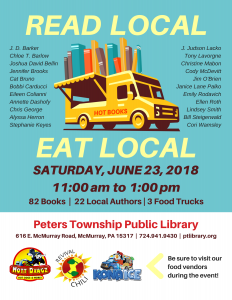 Peters Township Public Library will gather over 20 local authors to shine and share their talents at a new event called Read Local/Eat Local on Saturday, June 23 from 11:00 a.m. to 1:00 p.m. The library is encouraging the community to read books by authors from the southwestern Pennsylvania area that represent all genres for all age groups. The library plans to offer storytimes and activities for children at this family-friendly event. No registration is needed to attend.
"The library is frequently contacted by local authors when they have a new book to share," explained Sue Miller, Assistant Library Director. "And that is how we discovered so much talent right in our backyard. With the Read Local event, we have an opportunity to showcase these authors to the community. They offer everything from children's books, fiction for young adults, romance, fantasy, mystery, science fiction, history, and self-help. I think the event will offer something for just about everyone, including some tasty food available for purchase."
Authors to date that will be available for two hours of conversation, book readings, book sales and signings include:
Eileen Colianni
Chris George
Judson Lacko
Plan to Eat Local while at this free event or passing through the area as three food trucks will be in the library parking lot with refreshments for sale that afternoon.
Trucks on-site will include Hott Dawgz, Revival Chili and Kona Ice.
Read more about our local authors

J.D. BARKER
J.D. Barker is the international best-selling author of THE FOURTH MONKEY and FORSAKEN. As a finalist for the Bram Stoker Award and winner of the New Apple Medalist Award, his work has been compared to Stephen King, Dean Koontz, and Thomas Harris. His third novel, THE FIFTH TO DIE, was released in June 2018. He has been asked by the Stoker family to co-author the forthcoming prequel to DRACULA due out in fall 2018. His novels have been translated into numerous languages and optioned for both film and television.
CHLOE BARLOW
Chloe is a contemporary romance novelist living in Pittsburgh, Pennsylvania, with her husband and their sweet dog. This Amazon Top 100 Bestselling Author, has been featured in Heroes and Heartbreakers, Pittsburgh Post-Gazette, Pittsburgh Tribune-Review, RT Book Reviews Magazine, Lupus Now, and Mt. Lebanon Magazine. She is a native Washingtonian who graduated from Duke University with a degree in English and Chinese. She met her husband at Duke and he brought her to Pittsburgh over a decade ago, which is now her adopted hometown. She also attended the University of Pittsburgh Law School where she continued to be a book-loving nerd. Since the release of her debut novel, THREE RIVERS, she has enjoyed the honor of meeting and talking with numerous fans, and looks forward to getting to know many more.
JOSHUA DAVID BELLIN
Joshua David Bellin has been writing novels since he was eight years old (though the first few were admittedly very short.)  A college teacher by day, he is the author of three science fiction novels for teens and adults: the two-part Survival Colony series (SURVIVAL COLONY 9 and SCAVENGER OF SOULS) and the deep space adventure FREEFALL. His new book, the YA fantasy ECOSYSTEM, came out Earth Day 2018. Josh loves to read, watch movies, and spend time in nature with his kids. Oh yeah, and he likes monsters. Really scary monsters.  Joshua will be reading from his works at 11:45 a.m. in the Reading Room on the 2nd floor.
JENNIFER BROOKS
Jennifer Brooks was born in a small town outside of Pittsburgh, Pennsylvania. She was still very young when her grandfather took her brother and her to the local Bookmobile to get library cards, starting them both down the path of a lifelong love of reading. Along with reading came her joy of writing. She started with poems at first, working her way up to short stories and finally novel-length ones. Her first published novel, BRAVING THE STORM, was a finalist for 2016 The Authors' Zone Awards. Her second novel, FACING THE STORM, was a finalist for 2017 The Authors' Zone Awards and has earned the Five Stars Seal from Readers' Favorite.
CAT BRUNO
Pittsburgh-based, bestselling fantasy author Cat Bruno creates superhero-like protagonists and complex villains in her mythology-laced series, PATHWAY OF THE CHOSEN. Midwest Book Review praised Ms. Bruno's debut novel, THE GIRL FROM THE NORTH, as "Exceptional entertainment with deftly created characters and unexpected plot twists." A year later, Ms. Bruno continued the story of her strong female protagonist with the second book in the series, DAUGHTER OF THE WOLF. In October, the third book and the author's favorite, QUEEN OF STARS AND SHADOWS, was released and quickly entered the bestseller's list in epic fantasy.
BOBBI CARDUCCI
Bobbi Carducci is a sought-after speaker at caregiver events and conferences.  She is a caregiver advocate, caregiver support group leader, author, and blogger. As a caregiver for her father-in-law, Rodger, for seven years, Bobbi's presentations connect with and educate caregivers as she speaks with honesty, compassion, and humor about caring for an ageing family member. Bobbi is the author of Confessions of an Imperfect CAREGIVER.
ANNETTE DASHOFY
Annette Dashofy is the USA Today bestselling author of the Zoe Chambers mystery series about a paramedic and deputy coroner in rural Pennsylvania's tight – knit Vance Township. She's a three-time finalist for the Agatha Christie: Best first Novel of 2014, Best Contemporary Novel of 2015, and NO WAY HOME has been nominated for the 2017 Agatha for Best Contemporary Novel. UNEASY PREY (March 2018) is the sixth in the series. Annette will be reading from her works at 12:45 p.m. in the Reading Room on the 2nd floor.
CHRIS GEORGE
Christopher D. George, a former resident of the 2nd Ward of Allegheny City, is a graduate of both the University of Cincinnati and the University of Pittsburgh. He teaches in the Upper St. Clair School District near Pittsburgh, Pennsylvania. An avid genealogist, he has spent nearly 20 years researching his Great-Great-Grandfather and the time he served as a member of the 123d Pennsylvania Volunteers. He previously published a family history titled "The George Memory Book" in 2008. Chris and his wife enjoy the adventures of raising their three wonderful children.
ALYSSA HERRON
Alyssa Herron is a local writer, poet, and actor. She is a playwright whose stage works have been produced throughout Pittsburgh. She also performs locally as a spoken word artist. Her screenplays have been recognized as competition finalists for the Sundance Institute and the Steeltown Film Factory. Her debut novel DROWNING ABOVE WATER is now available. The anthology Deli Counter of Justice includes her first super hero short story. Her son just wishes she was better at video games. Her ramblings appear at darkyarnproductions.com. Alyssa will be reading from her works at 11:30 a.m. in Café Lee on the 2nd floor.
STEPHANIE KEYES
Stephanie Keyes is the author of the YA Fantasy series, The Star Child (inkspell Publishing), which includes The Star Child, After Faerie, The Fallen Stars, The Star Catcher, The Last Protector, and A Faerie Wedding. In 2016, Inkspell compiled The Star Child novellas into the paperback, Into Faerie: The Star Child Novellas. Her work also appears in the compilations Can't Buy Me Love, Moonbeams and Magic, Blood In the Shadows, and the international bestseller, Ever in the After: 13 Fantasy Tales. The Internship of Pippa Darling, Ms. Keyes' first new adult novel, was released in March 2018. Stephanie will be reading from her works at 12:15 p.m. in the Reading Room on the 2nd floor.
Her work has received multiple commendations, including the following: 2015 BTS Magazine Reader's Choice Awards Finalist, 2014 Dante Rossetti Young Adult Novel Awards— Mythological Category—First Place, 2013 Kindle Book Awards Semi-finalist. Keyes was also selected as a 2015 Rutgers University One-On-One Plus Conference mentee. She's a member of the Society of Children's Book Writers and Illustrators and Pennwriters.
TONY LAVORGNE
Tony Lavorgne is an accomplished author, researcher, and public speaker on the subject of local legends and lore. He specializes in obscure paranormal and anthropological topics. He also hosts Tony Lavorgne's Legends and Lore podcast at The Social Voice Project.org. He has written Haunted Roads of Western Pennsylvania and Super Natural Lore of Pennsylvania.
CHRISTINE MABON
Following the sudden death of her husband, Chris was embraced and comforted by a large number of friends, neighbors, and members of the community who showed their love and support by bringing food, words of comfort, and helpful hands to her and her sons. Because of her experience, she wants to share the vital lesson she learned: Good friends can renew, restore, and revitalize the spirit. She publishes a monthly e-newsletter The Five Essential Friendships, and has written and published the book 101 WAYS TO NURTURE YOURSELF. She is currently working on the manuscript for COMFORT FOOD: ONE WOMAN'S JOURNEY TO UNDERSTAND THE MEANING AND SIGNIFICANCE OF FRIENDSHIP. Christine will be reading from her works at 12:00 noon in Café Lee on the 2nd floor.
CODY McDEVITT
Cody McDevitt is an award-winning journalist who works full time for the Somerset Daily American. His work has appeared in the Pittsburgh
Post-Gazette, Table Magazine, and Pittsburgh Quarterly. He and Sean Enright co-authored PITTSBURGH DRINKS: A HISTORY OF COCKTAILS, NIGHTLIFE & BARTENDING TRADITION.
JIM O'BRIEN
Pittsburgh sports author Jim O'Brien has written 27 books, 24 on Pittsburgh sports achievement and ten devoted solely to the Steelers.  He is on the advisory board for the Western Pennsylvania Sports Museum at the Heinz History Center in Pittsburgh and has been inducted into the Western Chapter of the Pennsylvania Sports Hall of Fame. He was given the Bob Prince Award for his journalism efforts and the David L. Lawrence Award for "promoting Pittsburgh in a positive manner on a national level" from Vectors. He was cited as a "Legend"
by the Pittsburgh chapter of the Italian-American Sports Hall of Fame.
JANICE LANE PALKO
Janice Lane Palko has been a writer for more than 20 years working as an editor, columnist, freelance writer, teacher, lecturer, and novelist. She is currently the executive editor for Northern Connection and Pittsburgh Fifty-Five Plus magazines and the lead writer for the website PopularPittsburgh.com. She has had numerous articles published in Reader's Digest, Guideposts for Teens, Woman's World, The Christian Science Monitor, Pittsburgh Post-Gazette, and St. Anthony Messenger. In addition to MOST HIGHLY FAVORED DAUGHTER, she has written the romantic comedy ST. ANNE'S DAY, the Christmas novel A SHEPHERD'S SONG, and the romantic suspense CAPE CURSED. She is currently working on a
spin-off from ST. ANNE'S DAY called OUR LADY OF THE ROSES. Janice will be reading from her works at 11:15 a.m. in the Reading Room on the 2nd floor.
EMILY RODAVICH
MYSTICAL INTERLUDES: AN ORDINARY PERSON'S EXTRAORDINARY EXPERIENCES is Emily Rodavich's first book and is a finalist in the 2017 International Book Awards. Has anything like this happened to you?
Your prayers are unexpectedly answered in a perfect way.
The memory of a deceased loved one fills your thoughts, and you receive a sign and know he/she is there.
Without thinking you write out factual information you had no way of knowing beforehand.
You have an unexpected vision of a past life.
You have a life-changing near-death experience.
And if you are reluctant, like Emily was, to share the story with her family or friends, then you may wish to read Mystical Interludes.
ELLEN ROTH
After 25 years as a successful businesswoman, Ellen Roth transitioned to writing and publishing her first work of fiction – TEN FINGERS TOUCHING – which subsequently won multiple awards including first place for Fantasy Fiction at the TAZ awards (2016). Her book is a romantic escape that intertwines true love, mystery, and adventure in a fairy tale for grown-ups. Fans have given it a 4.6 star rating on Amazon. She is currently writing the screenplay adaptation of TEN FINGERS TOUCHING. For more information or to engage her to speak on "Truth or Fiction: Lessons Learned from Fairy Tales," visit ellenrothauthor.com.
LINDSEY SMITH
Lindsey Smith is a nationally recognized author, health coach, speaker, wellness icon, and the blogger behind Food Mood Girl. Best known for her books EAT YOUR FEELINGS and FOOD GUILT NO MORE, Lindsey has reached thousands of people looking to enhance their mood, decrease their anxiety, and learn to love themselves just a little more. When not helping others, Lindsey is typically spending time in her hometown Pittsburgh, Pennsylvania with her punk rock husband and dog, Winnie Cooper. For more information on Lindsey, visit www.FoodMoodGirl.com.
BILL STEIGERWALD
Bill Steigerwald is a veteran journalist from Pittsburgh. His new nonfiction book 30 DAYS A BLACK MAN tells the amazing but forgotten story about an undercover mission by a Pittsburgh newspaperman into the Jim Crow South in 1948 that shook up the whole country. Pittsburgh Post-Gazette star reporter Ray Sprigle's nationally syndicated series "In the Land of Jim Crow" exposed the iniquities and humiliations suffered by ten million black Americans in the segregated South. It shocked the white people of the North, angered the South, and started the first national debate in the media about ending America's legal apartheid. Kirkus Review said 30 Days a Black Man is "a fascinating account of an anti-Jim Crow muckraking adventure…" that Steigerwald turned "into rollicking, haunting American history." Bill will be reading from his works at 12:30 p.m. in Café Lee on the 2nd floor.
CORI WAMSLEY
Cori Wamsley is the executive editor of the national publication Inspiring Lives Magazine, which inspires, encourages, and instructs, addressing every facet of a woman's life. Cori is also the author of the Martina Mackenzie series (middle grade), CONFESSIONS OF THE EDITOR BRIGAND (chick lit), and THE KNIGHT AND THE NINJAS (Children's), as well as the CEO of Cori Wamsley Writing Services. She helps coaches, speakers, business owners, and nonprofit leaders tell their stories to boost their client list and attract interest to their passion through bios, articles, and books. Visit coriwamsley.com for info about her books and services, as well as writing tips through her blog.
Related Events