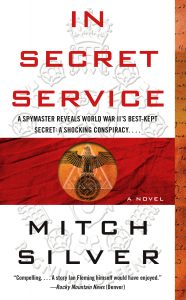 View this book in our catalog
Recommended by Carol Johnson, Circulation Desk Staff
From Simon & Schuster:
1964: James Bond's creator Ian Fleming, himself a World War II British Naval Intelligence officer, seals a manuscript intended for a future reader whom he must trust will serve the truth decades later….
2005: An American academic is summoned to Ireland to claim a strange inheritance — a memoir, penned by the famous author, details information so confidential, so potentially explosive, that people on both sides of the Atlantic are willing to kill to maintain its secrecy.
In a gripping suspense debut, Mitch Silver brings to life Ian Fleming's world of spies, passion, and danger in this compelling historical mystery crafted inside a heart-pounding contemporary thriller. Featuring Winston Churchill, the Duke and Duchess of Windsor, Princess Diana, and others, the story culminates in an electrifying chase sparked by a long-hidden conspiracy….