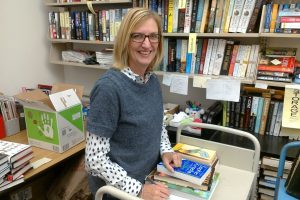 Volunteers are welcome at the library! You will have the opportunity to use your current skills, develop new skills, and give back to your community.
Working under the supervision of library staff, volunteers provide valuable support and assistance. Based on expressed interests and abilities, volunteers may assist with shelving library materials, clerical tasks, working on signs, informational brochures, helping with special library events, and other tasks as assigned by the Director, Reference or Children's Department staff.
Print and complete our Volunteer Application Form and return it to the Circulation Desk. Forms are also available at the circulation desk. You can read about volunteer opportunities at the library by looking at our volunteer brochure.