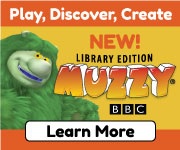 MUZZY is the world's #1 language course for children, featuring popular animated characters, rich immersion methodology, and engaging stories, games, and exercises. MUZZY is currently available to learn British English, American English, Spanish, Latin-American Spanish, Chinese (Pinyin), Korean (RR), French, German, and Italian. The award winning program now has a whole new generation of interactive content that will emerge for today's tech-savvy children and all levels of early language learners worldwide. Visit the MUZZY Online web site and enter your Waggin bar code number to access.
---
General
Biography
Biography
Brief biographies from the A&E Television Network. Contains information on over 25,000 famous people including both historical and currently popular figures.
Internet Public Library – POTUS (Presidents of the United States)
Information on presidents including election results, notable events, and cabinet members. Also includes links to biographies, historical documents, audio and video files, and other presidential sites.
Dictionaries
Geography
Government
History
America's Library
A site with information about American people and historical events, and each of its states. From the Library of Congress.
Encyclopaedia Britannica Guide to Black History
Traces the African American experience and achievements in the United States and elsewhere.
Kidipede – History for Kids
Lots of information about North America, Europe, Asia and Africa in all different time periods for children, with pictures, lesson plans and teacher guides. Written specially for kids.
Math
Research and Citation
Knight-Cite Citation Creator
Choose from MLA, APA, or Chicago citation styles, fill in the form, then click submit for a properly formatted citation. "A project of the Hekman Library" of Calvin College.
Science
Study Guides and Notes
SparkNotes — Online study guides
Study guides and discussion forums offered on various academic subjects. Literature section includes brief analyses of characters, themes and plots.
POWER Kids

POWER Kids is part of the Access PA POWER Library. POWER Kids features kid-centered e-resources including books, movies, articles, "chat with a librarian", PA photos and documents and much more! Search now

Scholastic BookFlix

Scholastic BookFlix is an online literary resource for grades PreK – 3 that pairs classic video storybooks from Weston Woods with related nonfiction eBooks
from Scholastic to build a love of reading and learning. An engaging way to link fact and fiction, BookFlix reinforces early reading skills and introduces children to a world of
knowledge and exploration. Search now

TeachingBooks.net

TeachingBooks.net offers the ability for users to meet authors and illustrators online anytime. It helps make K-12 reading and library activities a
dynamic, multimedia experience and creatively engages students and educators alike with author programs, books readings and book guides. To access the site: Library username: ptlibrary. Password: 15317.
Search now

World Book Encyclopedia Online

World Book Encyclopedia Online features the same expert information found in the print version. In addition, the online version features a consolidated layout that makes it easier to find research tools, videos, audios and more in convenient drop-down tabs. This site includes access to World Book Mobile, World Book Kids, World Book Student, Enciclopedia Estudiantil Hallazgos, and World Book Timeslines.Please put a "pt" in front of your library card number to access World Book Online. Search now