Gently Used Book Donations
The library accepts donations of books, CDs, DVDs, and other items for possible inclusion in the collection. We do not accept textbooks, encyclopedia sets, or items that are moldy, musty or in disrepair. We also cannot guarantee that donated items will be added to the collection, nor can we give a fair market value to donated items. Any books or other items that do not become part of the library's collection may be included in the library's ongoing book sale. The money raised goes back into the library to buy more materials for the collection. Please read our Book Donation Guidelines before donating items to the library.
Memorial Book Program
The Memorial Book Program offers you an opportunity to donate funds for the purchase a book to be added to the library's collection in memory of or to honor friends or relatives. You may specify a subject area or the library's staff will select a book in an area in need of new materials. Your gift book will bear a bookplate naming the donor and the person memorialized. Letters of acknowledgment and appreciation will be sent to both the donor and the family of the person who is being honored.
Print and complete a Memorial Book Request Form and return it to the library or pick up a form at the Circulation Desk.
Wall of Recognition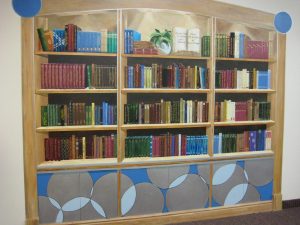 The library's Wall of Recognition on the first floor in the Children's Department offers a permanent way to honor or memorialize loved ones.   Each "shelf" of books relates to a certain level of giving.  The name(s) of those being honored or remembered will be placed on the shelf corresponding with the amount received. Levels of donation include: Founders > $10,000, Benefactors $5,000-$9,999, Patrons $2,500-$4,999, Partners $1,000-$2,499, Builders $500-$999 and Donors $250-$499. Please contact the library for more information about this program.
Online Donation
Your support of the library allows us to continue providing services and resources to the residents of Peters Township and beyond.  Each day, hundreds of individuals walk through the library's doors – everyone from local college students, business owners, the unemployed, families, retirees, immigrants and more. As a donor, you recognize that libraries are the thread that holds together the fabric of our community. Libraries support literacy and education, gather and provide access to information, support the democratic process, enhance the quality of life and build community. Please consider making a tax-deductible donation to help us continue providing the materials, services, and programs that enrich and enhance our community.
You can make a secure online donation using a credit card or PayPal.
Donate Now