The Peters Township Public Library welcomes bestselling author and former deputy assistant secretary of State Todd Moss on Monday, October 24 at 7:00 p.m. to discuss his fact-finding trip to Cuba earlier this year.
Registration is required for this program. Register online or call 724.941.9430 #1. A book signing and light refreshments will follow the program.
The White House had not yet announced steps toward normalization with Havana, when Todd Moss first conceived his new thriller about the U. S. and Cuba, "proving yet again that even the most intractable foreign policy logjams can break at any time… and what comes next is always unpredictable "says Moss. Drawing on a true historical episode and inspired by the author's experiences working inside the United States Government, Ghosts of Havana is infused with timely relevance.
A few weeks before President Obama's high-profile historic trip to Cuba, Todd Moss took his own fact-finding trip and wrote about it in this article for USA Today . Moss writes "There are constant reminders that Cuba is a totalitarian state, …[but] I left with the sense that Cuba was on the verge of major transformation." That's the Cuba we see in Ghosts of Havana, a country on the brink of change, but still holding onto the ghosts from its past.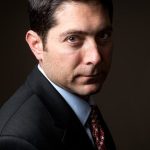 Todd Moss is COO and senior fellow at the Washington think tank Center for Global Development, and an adjunct professor at Georgetown University. In 2007-2008, he served as deputy assistant secretary of state in the Bureau of African Affairs, where he was responsible for diplomatic relations with sixteen West African countries. Previously, Moss worked at the World Bank and the Economist Intelligence Unit, and taught at the London School of Economics.