The Peters Township Public Library is located in McMurray, Washington County, in the southwest corner of Pennsylvania. The library was founded in 1957 by the Women's Club of Peters Township and originally located in a section of the Peters Township High School. In 1961, the library moved to the basement of the School Administration building. In 1965, the library moved to the new Peters Township Municipal Building, where it occupied the entire second floor. In 1966, sponsorship was officially transferred to Peters Township.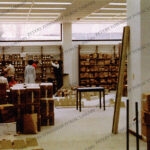 The library moved in 1976 to a 7,000 sq. ft. renovated Township maintenance building, and constructed an addition in 1985 to increase the total size to 11,000 sq. ft. A fully automated catalog and circulation system was introduced in 1993. Due to tremendous growth in the Township and a corresponding greater demand for library materials and services, planning for a new library began in 1997.
A groundbreaking ceremony was held on April 4, 1998 for a 23,000 sq. ft. two-story facility. The new library opened its doors to the public on February 16, 1999. In 2000, the library received national recognition from the Hennen's American Public Library Ratings (HAPLR), which ranked the library fourth in the nation among public libraries serving populations of 10,000 – 24,999.
In 2008, construction was completed on a 4,800 sq. ft. expansion which added a Teen Room, a Family Activity Center, a Local History Room, a Conference Room, and expanded shelving capacity on both levels of the library.
Today, the Peters Township Public Library is open Monday through Thursday, 9 a.m. to 8 p.m.; Friday and Saturday, 9 a.m. to 4 p.m.; and closed on Sundays. The library contains over 136,000 items including books, magazines, DVDs, music CDs, books on CD, eReaders, Playaways, Teaching Company "Great Courses" CDs and DVDs, circulating video games for Wii and Xbox consoles, Bi-Folkal "Memory" kits, interactive books for children, LeapPad Electronic Platforms and books, and much more. Services include free public computers, online databases, e-audiobooks, wireless Internet access, homebound delivery of items, meeting rooms, book clubs for all ages, a free weekly e-newsletter, and more. A multitude of programs for patrons of all ages are offered throughout the year.