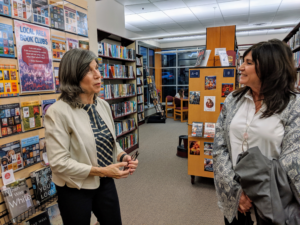 To foster the sharing of ideas and great book titles, the Peters Township Library Foundation created the Community Book Club wall. Located on the 1st floor near the elevator, you can find a list of local area book clubs and their reading choices.
The Foundation hosts a yearly "Book Club for Book Clubs" program that brings together members of community book clubs to talk and share ideas.  Library staff brings the clubs up-to-date on the many resources available online and through the library.
Click here for information about the Community Book Club Wall and the Book Club for Book Clubs program.