We are thrilled to launch a new intuitive calendar for you to find and register for events that interest you! Go to https://events.ptlibrary.org/ to get started. Be sure to bookmark that webpage for future use. We thank the Peters Township Library Foundation for their financial support in bringing this new calendar, registration, and room reservation platform to our community!
---
Using the New Calendar
You can see a screenshot of the February 2023 calendar below. Along the left side of your screen, you can search for events by keywords, age group, program type, and registration type. Events are color-coded by age group on the main portion of the calendar. You can change the view to Upcoming, Month, Week, or Day. You can easily see which programs are Full, Open, Waitlist, or require no registration.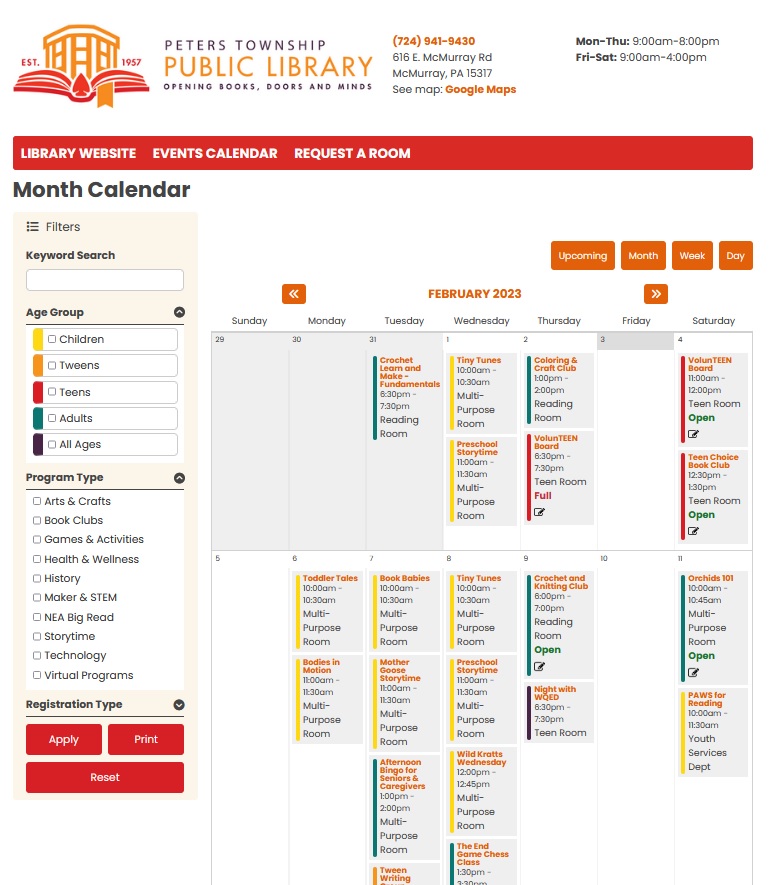 ---
New Program Sidebar
If you view the calendar on a desktop and hover over the program title, the program details will appear on the left sidebar. In the example below for Orchids 101 on February 11, you can see that 15 seats are remaining for this program for adults. Click on the program title in the sidebar or the full calendar to register.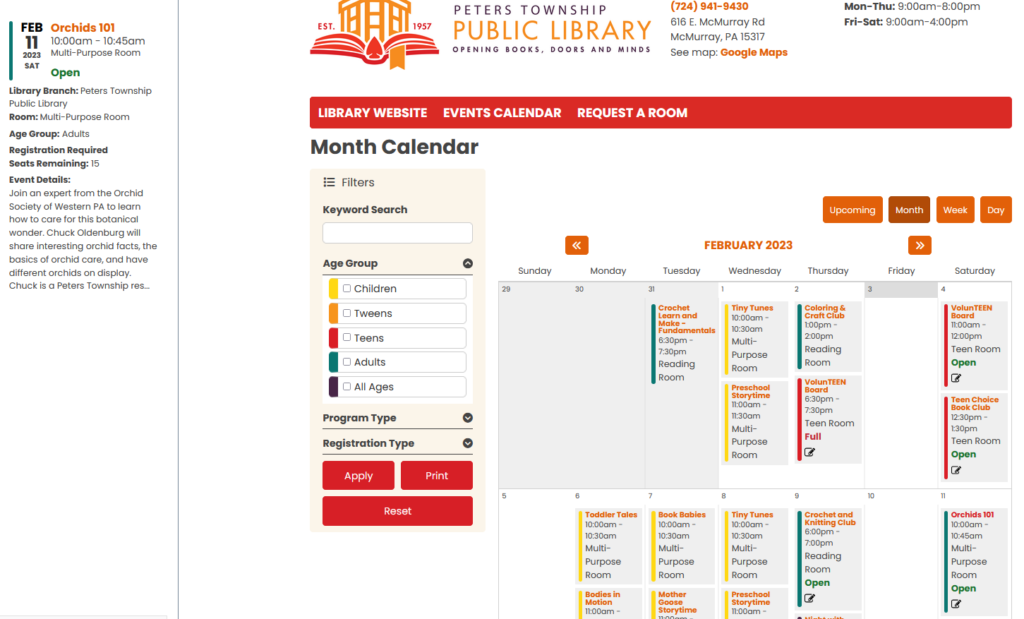 ---
Full Event Details and Registration
Below is the full event listing for Orchids 101. Using the three icons in the center of the description, you can add the event to iCal or your Google Calendar, print the event, or share it on social media. Next, you can review the Event Details. If registration is required, complete the requested information. The Add Another button allows you to add multiple persons using your contact information. If you are registering for a program from the Youth Services Department, we are asking you to register the name of your child/tween/teen. If we need the name of the Parent/Guardian with the child, the registration form will specifically ask for that information. Optional questions How did you hear about this program? and Do you want to sign up for the newsletter? will help library staff learn how you receive library program information. If you have additional questions, you can refer to the Contact Info for that particular event on the far right of the listing.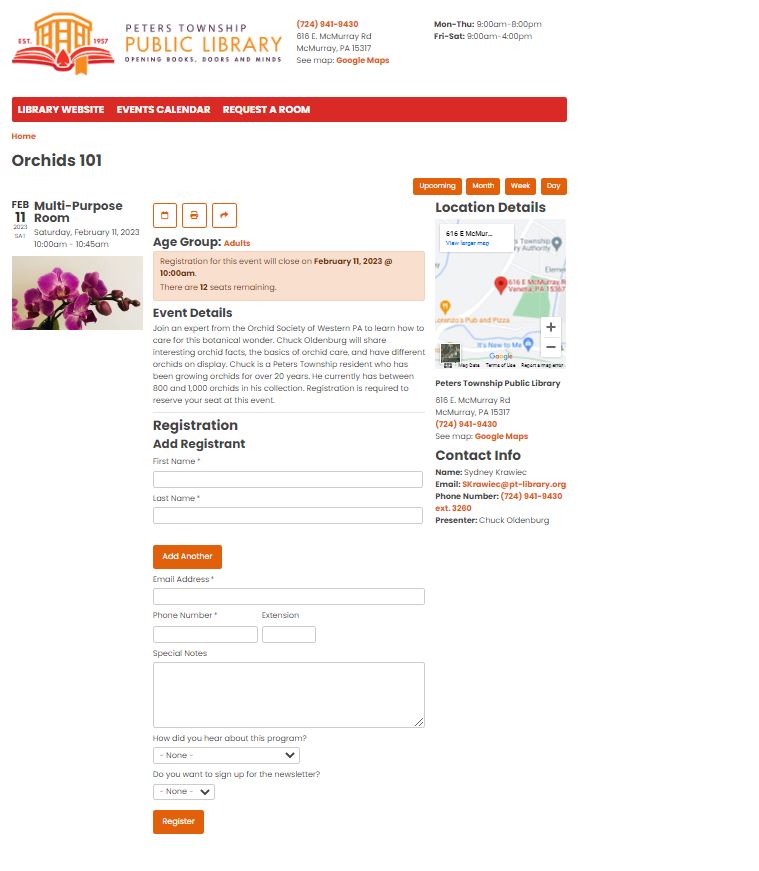 Once you complete your registration, you will receive a confirmation to your provided email address. You will receive a program reminder 48 hours before the event takes place with instructions should you need to cancel. If you are on a waitlist for a program, check your email frequently for a notification if we have moved you from "Waitlist" to "Registered"!
If you do not use email, you can call the library at 724.941.9430 #1 to register for a program. Please have the event date and title ready when you call.
---
Reserve a Meeting Room Online!
In addition to a new calendar and registration platform, PTPL also has a new page for reserving meeting rooms. Outside organizations no longer need to call the library to check for meeting room availability – it's all visible online at events.ptlibrary.org/reserve-room. This page is also accessible through the library website. Under the Using the Library tab, select Meeting Rooms and follow the link.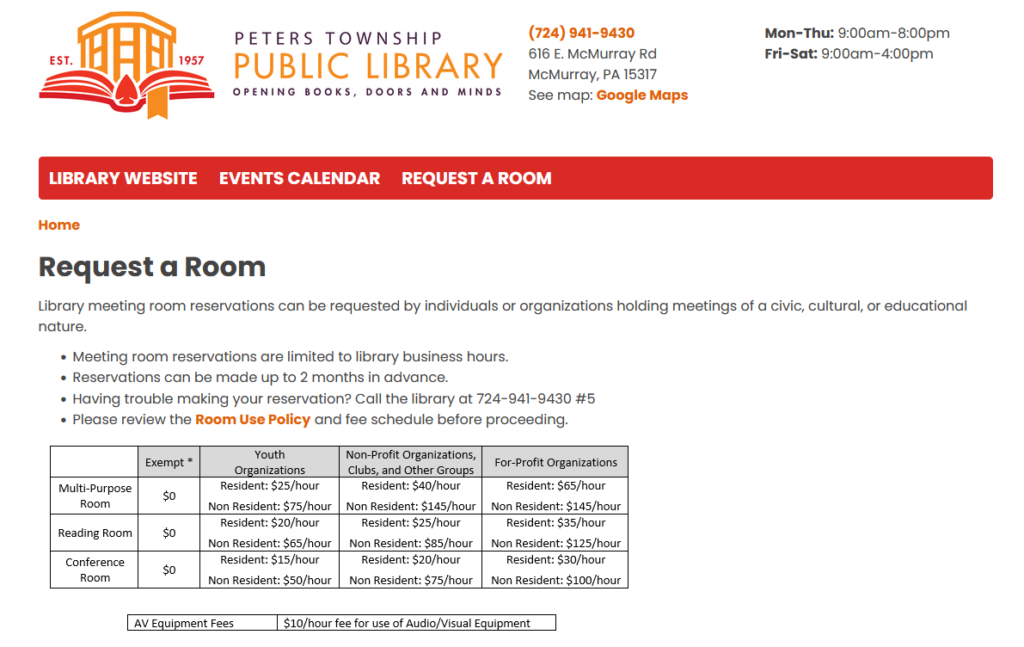 You can view availability either by room or by day. Once you select a room or date, you can see all availability.

Greyed-out times slots are not available to book. Any time slot with an orange plus sign is available. Simply choose the desired start time of your meeting, and fill out a brief form with your contact information, AV equipment needs, and organization type.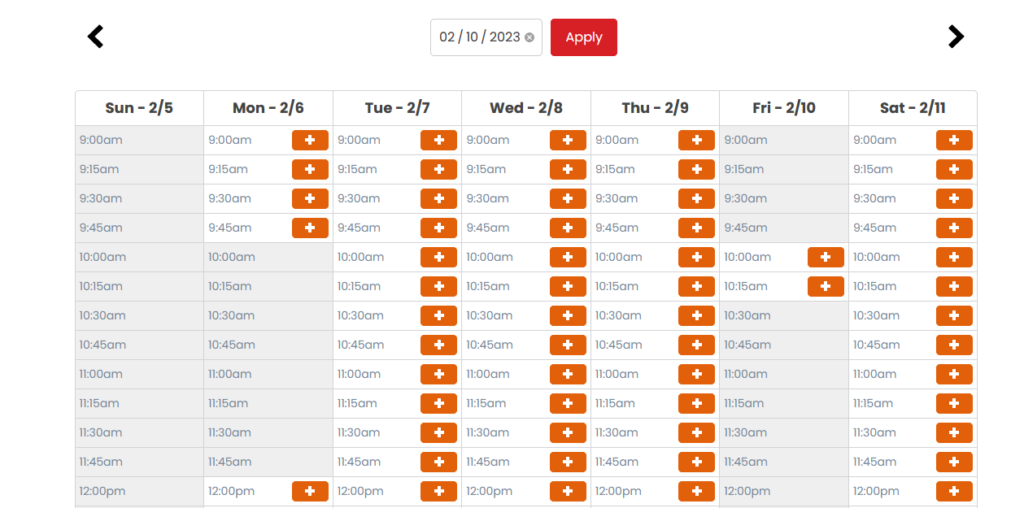 We can no longer accept paper forms to request a room. Once the form is submitted, please allow two business days for library staff to review and respond.
---
Launching this new online calendar was one of the objectives of Goal 2 of our Strategic Plan: Prevail as a gateway of knowledge and information by offering programs and services that meet the needs of a 21st-century citizenry. Our objective was to strengthen marketing and communication strategies to maximize opportunities for sharing information in a cohesive manner that improves your library experience. We are pleased to offer you this new calendar to begin 2023!