The Peters Township Library Foundation is excited to announce that Victoria "V.E." Schwab will be the featured author for their upcoming Novel November event. The literary event will take place on Wednesday, November 1, 2023, at 7:00 p.m. at the Peters Township High School Auditorium in McMurray, located at 121 Rolling Hills Drive. This program will be the sixth in the Novel November series, with previous featured speakers including Yaa Gyasi, Tim O'Brien, Anna Quindlen, Taylor Jenkins Reid, and Andy Weir.
Ticket Sales
Tickets for the event will go on sale on Thursday, September 7, 2023, and can be purchased online at ptlib.org/veschwab. Adult general admission tickets are priced at $30, while student tickets are available for $5. All general admission tickets include a post-event book signing with Schwab. Riverstone Books, The Foundation's independent local bookselling partner, will sell Schwab's books before and after the program. Don't miss out on this exciting opportunity to hear from a New York Times bestselling author.
A limited number of VIP tickets will be available for $75. The VIP ticket includes a reception with music and light refreshments from 5:45 to 6:45 p.m. in the Peters Township High School cafeteria. VIP ticket holders will receive a copy of The Invisible Life of Addie LaRue and attend a pre-event book signing by Schwab. You can also purchase tickets at the Peters Township Public Library circulation desk.
About V.E. Schwab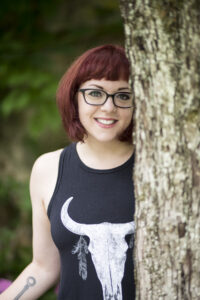 "V.E." Schwab is the #1 New York Times bestselling author of more than twenty books, including the acclaimed Shades of Magic series, the Villains series, the City of Ghosts series, and the international bestseller The Invisible Life of Addie LaRue. When not haunting Paris streets or trudging up English hillsides, she lives in Edinburgh, Scotland, and is usually tucked in the corner of a coffee shop, dreaming up monsters. 
More about "V.E." Schwab
Addie LaRue is Invisible – But Memorable https://www.npr.org/2020/10/08/921305498/addie-larue-is-invisible-but-memorable
The Book of VE Schwab's Heart
https://www.publishersweekly.com/pw/by-topic/authors/profiles/article/84041-the-book-of-v-e-schwab-s-heart.html
Author VE Schwab on writing monsters to help her readers fight real life https://www.cbsnews.com/news/victoria-schwab-author-darker-shades-first-kill-writing-young-adult-fantasy/
Visit her YouTube channel at https://www.youtube.com/@veschwab_onwriting