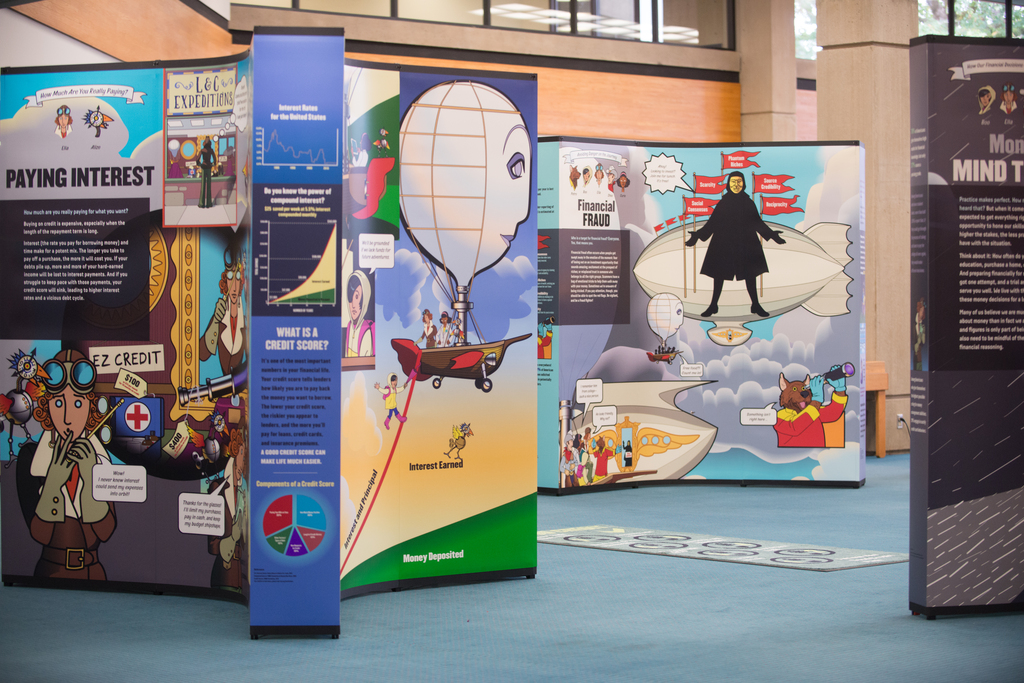 Peters Township Public Library will host Thinking Money, a new traveling exhibition designed to teach tweens, teens and the adults in their lives about money, from Saturday, April 1 through Sunday, April 30. The public is also invited to attend a variety of programs for all ages about financial topics like saving, spending and avoiding fraud.
"Money affects all of us, but many of us lack the information we need to make smart decisions about our financial futures," said Sue Miller, Assistant Library Director. "Thinking Money is designed to teach us about financial literacy in a way that is not only understandable, but fun, and we're proud to bring it to our library – the only one in Pennsylvania!"
Through an adventure-themed storyline, interactive iPad content and other fun activities, Thinking Money explores themes like wants vs. needs, preparing for a rainy/sunny day, imagining your future self and avoiding financial fraud.
Programs will include:
Thinking Money Kick-off Financial Fair for all ages on Saturday, April 1 from 11:00 a.m. to 2:00 p.m.
JA More Than Money for grades 3 through 5 on five Mondays, April 3, 10, 24 and May 1 and 8 from 4 to 4:45 p.m.
Youth Financial Education Workshop for ages 13 and up on four Thursdays, April 6, 13, 20 and 27 from 7 to 8:00 p.m.
Achieving Financial Excellence for adults on Saturday, April 22 from 10:00 a.m. to 12 noon – CANCELED by the instructor from NeighborWorks Western Pennsylvania
Junior Jumpstarts for students in grades 9 to 12 and parents on Tuesday, April 11 from 6:30 to 8:00 p.m.
Financial Fraud Bingo for adults on Tuesday, April 25 from 1:00 to 2:00 p.m.
Money for College for adults on Saturday, April 29 from 10:00 to 11:00 a.m.
Admission to the exhibition, which will be located in main lobby of the library, and all programs are free of charge.
Thinking Money was created by the American Library Association (ALA) in partnership with the FINRA Investor Education Foundation.
In April 2016, ALA and the FINRA Foundation announced 50 libraries nationwide to host the 1,000-square-foot exhibition. In addition to the exhibition loan, the Peters Township Public Library also received a $1,000 programming allowance, expenses paid for a training session at the 2016 ALA Annual Conference in June 2016, and promotional and support materials.
This Financial Literacy program is offered as part of the Pennsylvania Library Association's statewide initiative, PA Forward, to demonstrate that libraries can help citizens become informed consumers and guide individuals, small businesses, and other organizations to contribute to the economic vitality of their communities. Learn more at www.paforward.org.