The popular on-demand streaming service hoopla digital is now available for free for Peters Township Public Library cardholders. Members can access over 1,000,000 titles in various formats – audiobooks, eBooks, comics, music, movies, and TV. PT Library cardholders can stream content from any computer or mobile device by downloading the hoopla digital app for IOS and Android.
With hoopla, Peters Township Public Library now offers a vast digital collection to borrow immediately from anywhere. Hoopla is available on your desktop, phone, tablet, Alexa devices, Roku, Apple TV, Fire TV, and Android TV. You may borrow 8 Instant Borrows each month. Books are available for 21 days, videos are available for 72 hours, and music titles for 7 days after you borrow. Titles are automatically returned and removed from your device at the end of the lending period.
"Our patrons have given us great feedback over the past year about how our library services can help meet their needs," said Illyanna Logan, Assistant Library Director. "One thing that we heard over and over again was that the Peters Township Public Library community wanted more digital content available with their library card. When we saw that, we immediately thought of hoopla. It gives us a great way to instantly increase our digital offerings with a vast library of content in diverse formats that's always available. We think this resource will be a great addition to our digital collections and hope our patrons enjoy exploring all that hoopla has to offer!"
The hoopla digital collection includes popular entertainment and educational content, such as hit TV series, newly released music, bestselling audiobooks and eBooks, and much more. All items in the collection are always available, so no holds are necessary. This new service is not replacing OverDrive or Libby for downloading eBooks and audiobooks. The library is providing more digital content at the request of its members.
To get started, visit hoopladigital.com on your desktop or visit the App Store or Google Play to download the mobile app. In late March and April, the library has scheduled Intro to Hoopla classes via Zoom. Visit ptlib.org/classes to register to join the Zoom session.
Additional resources:
How to hoopla on IOS, Android, or Kindle
5 easy steps to get started with hoopla
---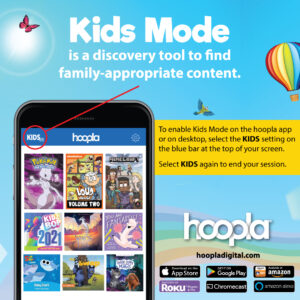 What is Kids Mode?
hoopla Kids Mode is a multi-format, digital media experience designed especially for kids (up to age 12). All of the content – movies, TV shows, music, audiobooks, eBooks, and comics – has been curated and brought together in this one family-friendly place. Kids Mode is a feature that should be used with parental guidance. There are different age ranges using this feature and the titles available range from G-General Audiences to PG – Parental Guidance Suggested. Parents or guardians are expected to decide whether a specific title is appropriate for their child.
How do I activate Kids Mode?
hoopla Kids Mode is very simple to activate. Once you are logged into your account, just go into your settings in the upper right. Then click/tap on the Kids Mode toggle switch, and you're all set. Click here for a guide on how to activate Kids Mode. We also offer a Kids Mode option on the home page in the top right corner! Logging out and back into your account switches Kids Mode off by default.
---